Mount Lhotse Expedition 2024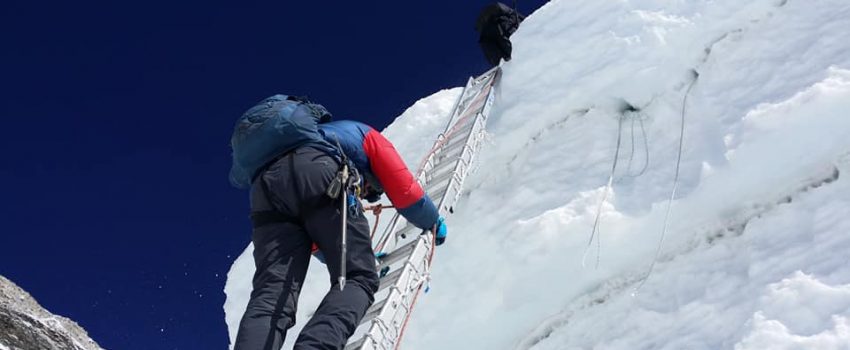 Activities: Mountaineering
Country: Nepal
Trip Grade:

6++

Group size: 2-15
Difficulty:Very Hard
Departure City: Kathmandu
Trip style: Expedition
Price:18000
Best Season: March to May
Overview
The entire Lhotse Expedition package is available at a very competitive rate.
Late spring and autumn are the perfect time to plan this expedition.
Outline Itinerary
Day 01: Arrival in Kathmandu Airport and transfer to Hotel
Day 02: Rest and prepare day for assignment & briefing
Day 03: Fly from Kathmandu to Lukla(2840m) and trek to Phakding (approx 4hrs walk)
Day 04: Trek from Phakding to Namche Bazaar(3440m approx 7hrs walk )
Day 05: Acclimatization day
Day 06: Trek from Namche Bazaar to Tyangboche(3860m approx 5 hrs walk)
Day 07: Trek from Tyangboche to Pheriche / dingboche (4250m approx 5 hrs walk)
Day 08: Trek from Pheriche / dingboche to Lobuche (5018m approx 4hrs walk)
Day 09: Lobuche rest day for acclimatization
Day 10: Trek from Lobuche to Gorakshep (5170m approx 3 hrs walk) and rest
Day 11: Trek from Gorakshep to Lhotse Base camp (5200m) which takes about two hours
Day 12-51: Climbing period (summit period for Lhotse)
Day 52: Trek from Base Camp (5218)to Dingboche(4260m approx 4hrs walk)
Day 53: Trek from Dingboche to Tengboche (3860M approx 4 hrs walk)
Day 54: Trek from Tengboche to Namche Bazaar(3440m approx 4hrs walk)
Day 55: Trek from Namche Bazaar to Lukla(2840m approx 7hrs walk)
Day 56: Fly from Lukla to Kathmandu Transfer to hotel
Day 57: Free day in Kathmandu
Day 58: Final departure
Cost Include

Arrival and departure transfers by private car
Accommodation in Kathmandu with breakfast (4*deluxe)
Welcome and farewell dinner in Kathmandu
One day guided city tour in Kathmandu valley
Kathmandu to lukla and return air tickets
All meals (Lunch/Dinner/Breakfast) during the trek
Accommodation (Lodge/Guest House) while on a trek
Trekking Permits and TIMS permits for the trek
Trekking guide during the trek and climbing Sherpa while climbing
Required porters and yak to carry luggage and other essentials supplies
Special climbing permits and its procedure
Garbage deposit fees
All wages, equipments, medical and accidental Insurances for all involved staffs during the trip
First Aid medical kits for the Group and the staffs.
Satellite phone carrying by Guide for communication with company staff and available for members with the cost of US$ 4 per minute call.
Required fixed and dynamic rope during climbing period.
Gamow Bags and Oxygen

Excludes

Nepal arrival visa fees
Lunch and dinner in Kathmandu
Monument entrance fees while on Kathmandu tour only
All snacks, energy drinks, mineral water, cigarettes, packed food
Personal nature items, Laundry Expenses, Tips
Expenses incurred towards usage of landlines, mobiles, walkie-talkies or satellite phone And Internet expenses
Clothing, Packing Items or Bags, Personal Medical Kit, Camera/Video Fees or Trekking Gears
Rescue, Repatriation, Medicines, Medical Tests and Hospitalization expenses
Medical Insurance and emergency rescue evacuation if required
Personal climbing gears
The Lhotse Expedition: Typically 48 days is required to complete the expedition, in which 39 days are set aside for climbing. The expedition starts with a flight from Kathmandu to Lukla, from where we trek all the way up to the Everest Base Camp (Mt Lhotse and Mt. Everest share the same base camp) beside the Khumbu glacier; enjoying the beautiful Sherpa villages, culture and their hospitality. Lhotse expedition not just shares the base camp with Everest expedition, but also the length up till the south col, on the way to Everest's Camp 4. The climb from the base camp to camp I (at 6,400m) is via Khumbu Icefall, which is the most dangerous section of the climb due to the presence of large crevasses, deceptive uneven seracs and high objective danger of falling ice. Once past the Khumbu Icefall, although the route is technically demanding, it poses less objective danger. The first camp is located on top of the Khumbu Icefall. Camp II (at 6,752m) is located in a lateral moraine at the bottom of the west ridge. The view of Lhotse from this place is simply marvelous. However, one needs to fight flat glaciers and crevasses before one can enjoy this view.  Camp III (7,100m) is located on a small ledge on the Lhotse wall. The climb from camp 2 to camp 3 is first across the glacier and then about 600m on the compact snow field. Camp IV (at 7,850m) located near the south col is the last camp. Camp 4 from camp 3 is through the two rock sections: the Yellow Bands and Geneva Spur, with the help of fixed ropes. From camp 4 the final push towards the summit is on a steep narrow gully along a mix of packed snow, ice and some rock. The surrounding view from the top is very much rewarding.
Visit Nepal 2020 is dedicated to providing comprehensive service required for the successful climb. Full board (meal and accommodation), necessary transportation, experienced mountaineers, guide and crew members having the knowledge of wilderness medical training, permanent base camp, experienced expedition cooks and managers, solar electricity, internet facility, satellite phone, professional, reliable weather forecast service are just to mention a few. Accommodation during the trek will be arranged in the lodges and tents during the climb. The itinerary prepared by us also ensures the required acclimatization. The entire Lhotse Expedition package is available at a very competitive rate.
Late spring and autumn are the perfect time to plan this expedition. Moreover, we also request you to be ready for the possible obstructions like altitude sickness and unpredictable mountain weather. Nevertheless, we also make the best arrangements for other expeditions like the the Manaslu Expedition, the Makalu Expedition, Dhaulagiri Expedition and many more.