Jul
20
Overview
In a short duration of time helicopter flying from Kathmandu to Namche Bazaar.  It takes 45 minutes to reach the departure, which is an altitude of  3440 meters above the height. Kathmandu to Namche Bazar Helicopter Tour is one of the great views of adventurous activities in Himalayas ranges. Visit Nepal 2020  proposal Namche Bazaar helicopter flight, which proposition thrilling views of mountain visualization. It is located in the Khumbu Pasanglhamu rural municipality in  Solukhumbu district. This valley is the most prominent for mountain lovers all over the world. One of the best ways to detect this valley is a brief period of time in the helicopter tour.
Kathmandu to Namche Bazaar Helicopter Tour With Air Dynasty
Many people choose helicopter flights to reach Nacha Bazaar from  Kathmandu, which can accommodate 5 people on a single flight. Flying through a helicopter is very intuitive, and you will have a unique and exciting experience in the highest mountain world. At helicopter flights, you do not have to worry about canceling the flight as bad weather.
Helicopter flight to  Namche Bazaar will provide you more security and comfort than other security flights. The helicopter flight to  Namche  Bazaar is a luxury tour where you will enjoy a great view of some of the best scenes in the Everest region. The snow-clad will be a thrilling experience in the magnificent Himalayas and will be the eagle eye scene of the landscape, the local settlements, monasteries, glaciers, and the Everest region's ice.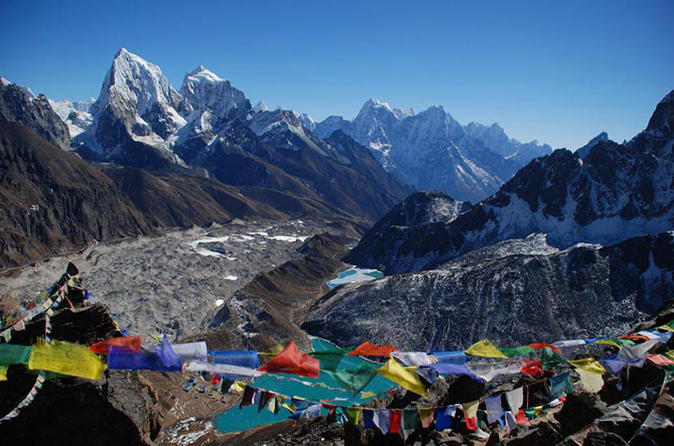 Enjoy A Great Views In The Everest Region With Air Dynasty
Exciting Nepal arranges daily services for a Helicopter flight from Kathmandu to Namche Bazaar and Namche to Kathmandu Helicopter services. You can take a private helicopter flight as well as a group of helicopter flights. So if you are planning your Everest Base Camp Trek, mountainous event or just a tour at the Everest region, you can simply enter your detail information by joining us.
Kathmandu To Namche Bazaar Helicopter Price
From the Kathmandu Valley, the cost of helicopters of Nachcha Bazaar is $600 per person. While it costs USD 3100 for a private helicopter charter.
You will see the difference in the group's cost with helicopter flights and private helicopter flights in the Namche Bazaar. Generally, private helicopter flights are easy and it takes less time to manage than a group involving helicopter flights. So, it would be better if you would fly through a Namche Bazaar in a helicopter through your team.
Group Helicopter Flights To Join
On the other hand, the group joining the Helicopter tours are a very affordable price. The helicopter flight works based on cost sharing. Exciting Nepal arranges the team who wants to fly to Namche Market via helicopter. If you are a single person flying to Namche, the group sharing helicopter flight will be your best. It will not only save your budget but also timely flights.
Private Helicopter Flights
Namche Bazaar also depends on charter helicopters flights and flights included in the group. Helicopter charter flights are very easy because you find beautiful scenarios in the Everest region with your colleagues. So, the Helicopter Charter flight recruitment cost is much more expensive than the group involved in helicopter flights.
If you take a private helicopter tour to  Namche Bazaar, you will not get any unnecessary flights, and you'll have a good privacy flight with your team.
How To Book A Helicopter In Namche Bazaar  From Kathmandu
You can take an exciting journey to Namche Bazaar with Air dynasty. We provide Kathmandu-Namche Bazaar helicopter service at a very reasonable price. We have a guarantee of departure in time. So, if you are flying at Everest Base Camp Trek, Trekking Gokyo rhythm or other types of tops ascend, the Mount Campaign program tells us the flight rental helicopter. If you require any further clarification/assistance,  to contact us at or you can visit on our website.
Looking For A Helicopter Flight In Namche Bazaar?
If you want to fly from a helicopter in Namche Bazaar Airport to Kathmandu, we can organize the group or join a private helicopter tour.